NEW WEBSITE LAUNCH ANNOUNCEMENT:
CURLEY ADJUSTMENT BUREAU LAUNCHES NEW SITE DESIGN AT WWW.CURLEYADJUSTMENT.COM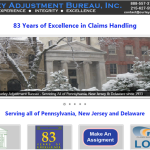 We are very excited to announce the launch of our newly designed website. Visit us at our web address www.curleyadjustment.com.
The site's homepage features bright colors and an uncluttered design. We wanted to make the new website faster, easier to navigate, and more user-friendly.
You'll find our new site is divided into several sections: Services, Send Assignment, Office Locations, About Curley and most importantly our new CLIENT PORTAL. We shifted to a client-centric layout so our clients could easily navigate our site and locate the information they need.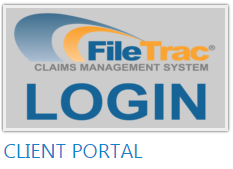 The most notable update is the link to our Claims Management System. This Client Portal will allow our clients to view their claims. Most important clients can use this section to send us new assignments directly into our system.
[Client Portal link is shown to the right]
By using the portal, your information is auto-filled and you only need to attach documents and claim number. All you need is login credentials, just save/remember the password and you have One-Click access to the system. If you don't already have a login, contact us at info@curleyadjustment.com.
All other information entry is optional.  The two top benefits are security and expedited claims handling.  All of your data is secure, all data is secured using SSL Data Encryption (as used in online banking and e-commerce)
The Services section provides detailed descriptions of the Services and Solutions Curley Adjustment proudly offers.  You will find information on our Claims Handling, Claims Administration, Medical Case Management and Information Services.
Our Locations page will show our offices and ability to cover all of Pennsylvania, New Jersey and Delaware. You will also find downloadable company information such as our directory and property adjuster map.
Our team has worked hard to put together this website, rich in information, to be used as a resource. We pride ourselves on being a thought leader in the Claims Adjusting field and look forward to hearing any feedback from you.
If you experience any problems using the new website or if you have any questions, please contact us at info@curleyadjustment.com.